WHAT'S NEW: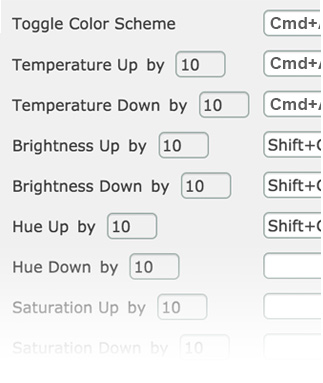 – Assign
Keyboard Shortcuts
to: Increase/Decrease Color Brightness, Temperature, Hue, Toggle Color Scheme, K-Lock, Tone Lock, Compact Mode, HSB/RGB sliders, Switch Color Triangle/Box/Diamond/Temperature/LDT-Cube, Copy color hex to Clipboard, Toggle panel on/off
– Assign shortcuts directly from MagicPicker Settings dialog
– Adjust steps for parameters increase/decrease from the same dialog
– Supports special keys of extended Keyboards and devices that emulate key presses.
– LDT-Cube Color Picker – most natural Color Space for digital artists. Pick separately on three Light, Dark and Temperature-based color sides at the same time!
– Move horizontally to adjust brightness, top side adjusts color temperature
– Move vertically to adjust saturation while keeping color's brightness
– Super clean stylish look with new PRO Mode. Hide all buttons and move UI elements out of your way! Click MagicPicker menu -> PRO Mode to toggle it.
– Pantone Solid Coated/Uncoated, L*c*h* support
– Tooltips for UI elements! Switch them on/off in Settings if you feel they're too much
– All features available now for Photoshop and Illustrator CS3, CS4, CS5, CS6, CC, CC2014, CC2015, CC2017, CC2018+
– more