New MagicPicker 3.0 features:
Color box mode for color wheel
Diamond mode for color wheel
Sliders can now display scales by clicking small triangles
Now you can switch on/off 12 basic colors in Traditional Color Wheel mode
Adobe Illustrator Support
Leap Motion support (requires Ethereal) – change colors in the air with your fingers
OH BOY! Speeded up! Color picking now is at its maximum speed!
Faster RGB/HSB sliders
Fixed small bug with RGB/HSB sliders
New behavior when hiding/showing sliders and numerical boxes
Sliders now can be scaled down to a thin line
Fixed issue with color preview
Fixed a very rare crash on Photoshop CS6
Sliders now open outside, expanding MagicPicker's boundaries
Fixed small bugs, improved performance and various parts of the UI
Optimized behavior of the panel when it's very small
Fixed problems with resizing panel on Photoshop CS3/Illustrator CS3
Improved panel design on Photoshop CS3/Illustrator CS3
Improved Compact Mode on CS3 software
Dramatically improved opening time on Photoshop CS3/Illustrator CS3
Fixed problems with Photoshop x64 on Windows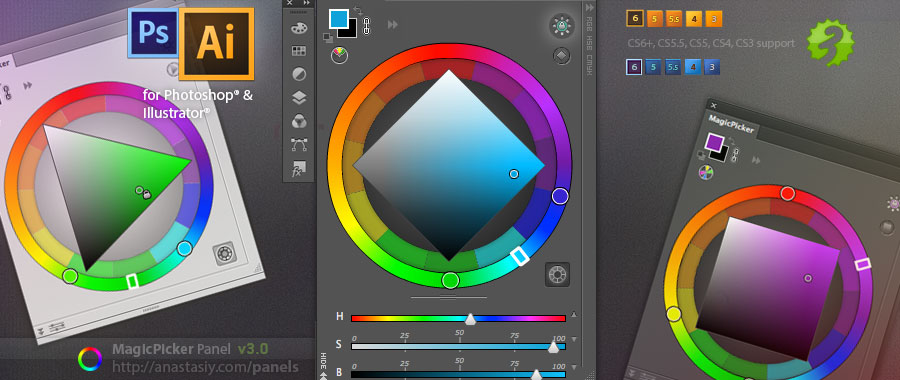 MagicPicker 3.0 – complete color solution for artists (color wheel, color picker and more)